WORLD BOOK NIGHT 2016
Literary Kitchen has been invited to curate a section of the event being hosted at Goldsmiths Library. More news soon.
WORLD BOOK NIGHT 2013
Literary Kitchen hosted an event at Cool Cats' Cafe, with readings of former students' work by Liars' League actors: 'Crossing The Line', byAnna Mazzola, originally performed at the Wet & Wild event, was read by Kim Scopes; 'Bay & Michelle', by Regina Freedman, originally performed at the Law & Order event, was performed by Sarah Le Fevre; 'A Fortnight of Frost', by Rebecca Skipwith, originally performed at the Angels + Demons event, was read by Louisa Gummer. We finished the evening with a Dirty Dozen Competition – 12 word stories, 1 word title, risque but not rude -  in which 40 audience members were brave enough to take part, signing the stories with their porn names. Judged by Steven Appleby and Katy Darby, the lucky top three received Best in Show rosettes!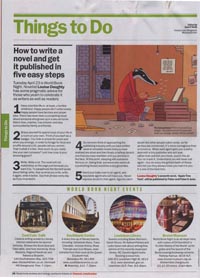 Read the events programme here.
View the video of the readings here.