News
MORE ALUMNI NEWS
Literary Kitchen alumni Peter Yeoh is highly commended in the 2017 Manchester Short Fiction Prize. Hurrah! Congratulations, Peter. Whoop whoop.
NEWS
Writers Workout student Emma Hutton's short story, Flitter, has been selected for the forthcoming Sacred & Profane event, Liars League, Dec, 5, which is also their Xmas party night. The Wheatsheaf, Rathbone Place. Only 40 tickets. More details here.
*STOP PRESS* NEW VENUE – MONO CAFE, 49 DENMARK HILL, SE5
Literary Kitchen is delighted to announce Mono cafe, Denmark Hill, as the new venue for Creative Writing for Beginners, which starts 11 Oct. More info here. Check them out for laid back vibes, speciality hand-roasted coffee, organic food and quality music and great selection of vinyl. We look forward to new writing-making on their handsome mid-century modern tables.
MORE ALUMNA NEWS
Alumna Madeline Ionnadis's short story Hooked has been selected as Editor's Choice for the current issue of Red Fez magazine, an online literary and arts journal established in 2002. Read it here. Congratulations Maddie.
BECKY DANKS WINS CITY WRITES
Thrilled to announce that Literary Kitchen alumna, Becky Danks's short story, The Anniversary, has won the City University City Writes Short Story Competition. Becky will read at the City Writes: Summer event alongside Luiza Sauma and fellow competition winners: Katy Darby and Bren Gosling. Becky wrote the story initially as a Creative Writing for Beginners student. Way to go Becky, we are very proud of you. Details of the event, which takes place on Wednesday July 12 at City University are here.
*STOP PRESS* PECKHAM PECULIAR FEATURE
Literary Kitchen is excited to be featured in the current issue, 21, June/July 2017 of The Peckham Peculiar.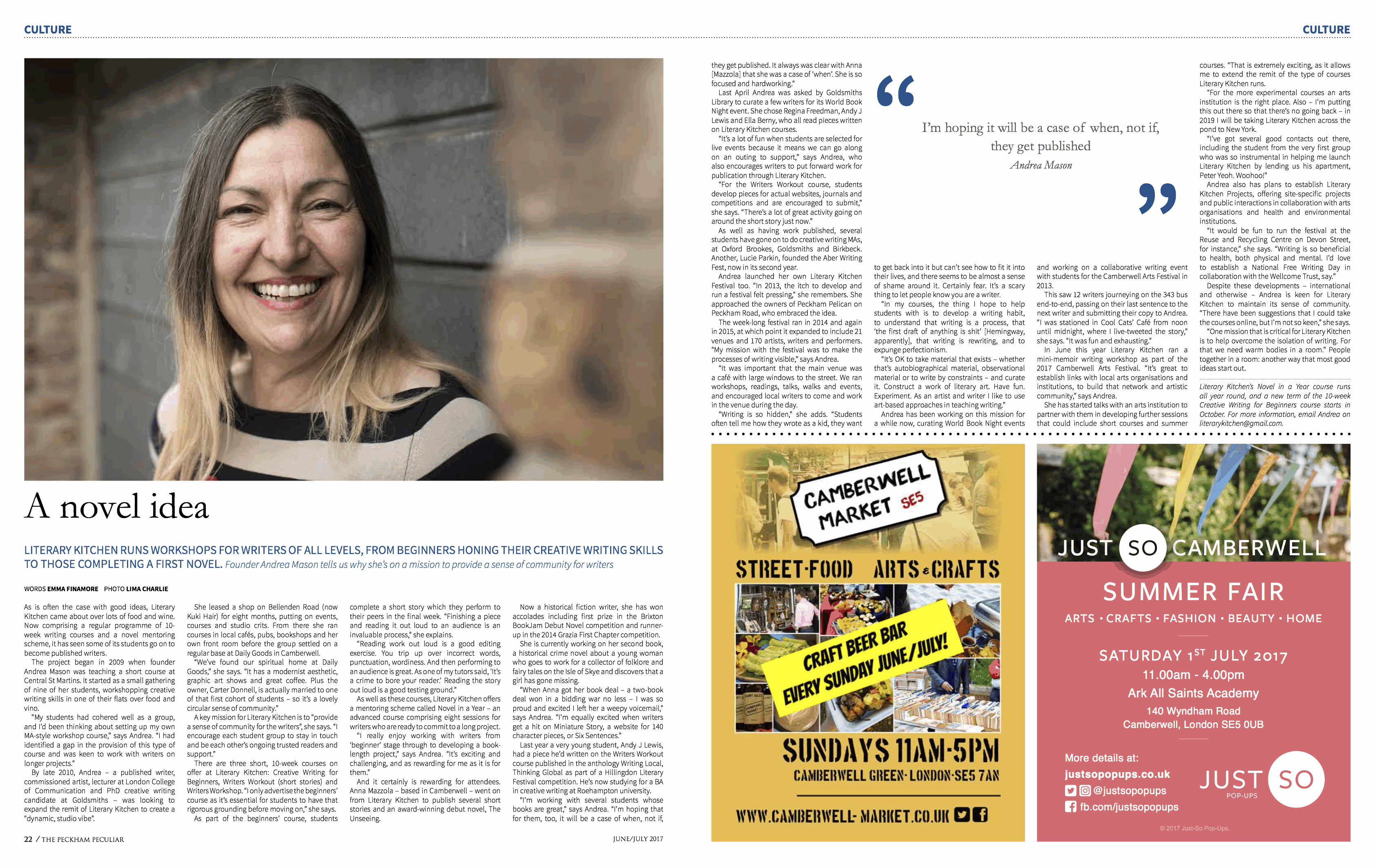 *NEW* for SUMMER: WRITERS BOOTCAMP

Brand new for the summer Literary Kitchen is excited to launch Writers Bootcamp – standalone two hour dynamic writing sessions on Saturdays, 3-5pm, at Literary Kitchen HQ. Writers will have access to the Literary Kitchen library, and various writing spaces including the garden writing cabin. Details below and here. Booking per session essential.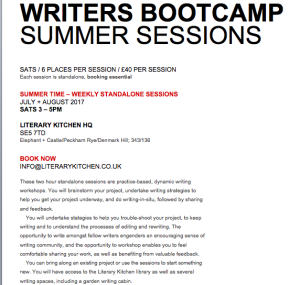 CAMBERWELL ARTS FAIR, SAT 10 JUNE 2017
Literary Kitchen kicks off Camberwell Art Fair with a FREE Mini-Memoir creative writing workshop. There will be FREE PASTRIES, and FREE COFFEE! Join us 10am-noon in the Arts Tent on Camberwell Green. Bring a notepad and pens and let's get those words on the page.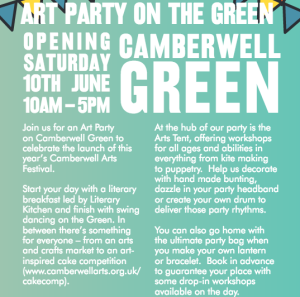 ANDREA MASON, 'TOUCHES', MEGACITY FICTIONS

Andrea Mason's piece Touches appears in Otoliths issue 43, and Megacity Fictions, a piece of concrete prose based on the artwork Touch Sanitation by Mierle Laderman Ukeles. You can read it here.
WORLD BOOK NIGHT 2017 – LATE NIGHT AT THE LIBRARY, GOLDSMITHS LIBRARY
Literary Kitchen was proud to showcase three alumni – Regina Freedman, Andrew Lewis and Ella Berny at Goldsmith's Library's World Book Night 2017 event, The Library at Night. We were treated to dadaist poetry, a sultry chanteuse, poetry, open mic, and "special guests: author, Irenosen Okojie and poet, Rachel Long as well as readers from Open Book, Intoart, the Black British Writing MA and Literary Kitchen". Pure magic!
MA ACADEMIC PRACTICE
Literary Kitchen director Andrea Mason has been awarded an MA Academic Practice with Distinction at Goldsmiths.
'HAPPY HANUKAH' REGINA FREEDMAN
Literary Kitchen alumna Regina Freedman's story, Happy Hanukah, is published in the Oct 22 issue of the London Journal of Fiction. Hurray! Read it here.
MORE ALUMNI NEWS
Lauren Miller, graduate of several terms of Writers Workshop, and now a part-time creative writing MA student at Birkbeck, is featured in the forthcoming issue of The Mechanics' Institute Review, Issue 13 (MIR13). The launch event, took place in the Keynes Library, Birkbeck School of Arts Building, 43 Gordon Square, London WC1H 0PD on Tuesday 27 September.
Fellow Writers Workshop graduate Peter Yeoh has published a story in Visual Verse. Read it here.
Recent graduate of Writers Workout Andy J Lewis's short story, The Witch's House, written on the course, has been selected for publication in an anthology Writing Local/Thinking Global, produced as part of the forthcoming Hillingdon Literary Festival. See details here. The festival takes place 7 – 9 Oct, and you can pick up a free copy of the anthology.
Hats off to all of you.
MINIATURE STORY HAT TRICK

Hurrah! Writers Workout student Fran Beckett is featured miniaturestory for June 15, 2016. Fellow student Allyson Fisher is featured miniaturestory for June 22. Making it a hat trick, Mel Carvalho's story is featured 21 July 2016. All three writers wrote their miniature stories as part of the Writers Workout course. Well done everyone!
WORLD BOOK NIGHT 2016
Literary Kitchen has curated the headliner section of an evening event for World Book Night at Goldsmiths Library. Our fantastic readers will be Eley Williams, Iphgenia Baal and Julia Calver. Book free tickets here.
THE STORY OF MONEY
Ever found money down the back of the sofa? Or a wallet dropped in the park? Come and explore your relationship to money via this 2 hour workshop for 12-16 year olds, led by Literary Kitchen director, Andrea Mason.
Saturday 20 Feb, 2-4pm. Rabbits Road Institute. To BOOK email info@rabbitsroadinstitute.org. For more info click here.
PECKHAM WRITING MAP
All systems go to create the first Peckham Writing Map, a limited edition of 500 which will be available free for the week of the Literary Kitchen Festival 12-18 October at The Peckham Pelican. This will be Writing Maps first site-specific map. Let's hope it is a fruitful long-term collaboration, since we plan to expand into Abergavenny and New York!
AUGUST 2015 – ANNA MAZZOLA GETS TWO-BOOK DEAL

Anna Mazzola is the first Literary Kitchen student to obtain a book deal. In fact, she bagged a two-book deal with Tinder Press for her debut novel The Unseeing, a story which began life at a Creative Writing for Beginners course in 2011. She subsequently undertook several terms of Writers Workshop before graduating on to courses at City University. Read more about Anna's journey here. Needless to say Literary Kitchen is immensely proud.
LITERARY KITCHEN FESTIVAL 2015 KICKSTARTER CAMPAIGN
The campaign has launched, and runs until August 22nd. To read all about it, make a donation, share with family and friends, click here.
MAY 2015
Literary Kitchen alumni and mentee, Lauren Miller, has been accepted onto the Birkbeck Creative Writing MA. Congratulations Lauren!
MARCH 19 2015
Another fine evening of poetry and prose at The Peckham Pelican with Lit Live. See it here: https://www.facebook.com/goldlitlive/photos_stream
DEC 11 2014
This Thursday evening saw 19 writers, poets, performers from Goldsmiths and Royal Holloway give their finest in a 3 Act extravaganza at The Peckham Pelican for Lit Live!, a Literary Kitchen/Goldsmiths Writers' Centre collaboration.
"The new Bowery Poetry Club", Marisa Carnesky. Hell Yes!
OCTOBER 2014
Literary Kitchen were invited to curate the final leg of Litcrawl 2014 on Sat October 11, alongside Clinic, The White Review, Review Bookshop and Liars' League. Literary Kitchen presented Sex Flash Marathon at The Peckham Pelican. 15 writers performed a flash fiction or poem on the theme of sex. Singer/songwriter Trevor John finished the night with a bang, or rather a song. Our host with the most was Andrew Alston, and DJ for afterwards was F£rg Mon£y.
NB. Two performers, Ella Frears and Rachel Long, were both shortlisted for the Young Poet Laureate. Congratulations
JUNE 2014
Literary Kitchen hosted its inaugural writing festival, a week long programme of events, walks, talks and workshops at The Peckham Pelican. View the PDF of the programme Festival Programme, or look at the webpage here.
MAY 2014
Literary Kitchen are hosting Creative Writing Workshops at the Clerkenwell Design Week as part of Parkin Whitman's events programme for Milliken.
2013
More success for alumni Anna Mazzola, who has won the Retreat West short story competition 2013. Well done Anna. Look forward to the novel.
Read more student success stories here.